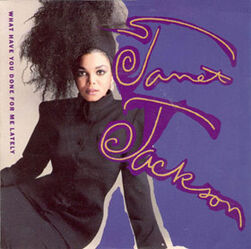 "What Have You Done for Me Lately" is the lead single from Janet's third album "Control." The single was released on January 13, 1986 in the United States and on March 10, 1986 in the United Kingdom.
The song was written by Janet, Jimmy Jam & Terry Lewis (who also produced the song). It was recorded in September of 1985 at Flyte Tyme Studios in Minneapolis, Minnesota. Janet helped with the lyrics of the song and was credited as a "co-producer" on the song even though she is not given an official credit as a producer.
Music Video
Edit
The video was directed by Brian Jones & Piers Ashworth in December of 1985. It shows Janet attending a funky diner with her friends to talk about her relationship issues. Her boyfriend shows up to the diner with his friends and Janet decides to give him a piece of her mind.
In the video, Janet's reality is a dark world with faded colors and in a more dreamscape world, the colors are vibrant and everything is 2-D. The choreographer for the video was Paula Abdul.
The video featured Tina Landon (who would later become a choreographer & a personal friend to Janet). Music video actor/dancer Rudy Huston portrayed Janet's boyfriend in the video.
Chart (1986)
Peak
position
Australian Kent Music Report
6
Belgian Singles Chart
7
Canadian Singles Chart
6
Dutch Top 40
1
German Singles Chart
8
Irish Singles Chart
10
New Zealand Singles Chart
27
South African Singles Chart
19
Swiss Singles Chart
9
UK Singles Chart
3
US Billboard Hot 100
4
US Billboard Hot Black Singles
1
US Billboard Hot Dance Music/ Club Songs
2
End of year charts Edit
|     End of year chart (1986) | Position |
| --- | --- |
| Australian Singles Chart | 61 |
| Canadian RPM Singles Chart | 53 |
| Dutch Singles Chart | 39 |
| US Billboard Hot 100 | 43 |
Certifications
Edit
|     Country |  Certification |
| --- | --- |
| United States | Gold |
| Australia | Gold |
| Canada | Gold |
| United Kingdom | Silver |