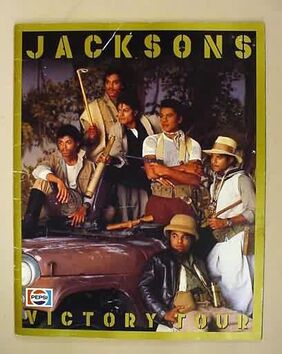 The Victory Tour is a tour by the Jacksons. It lasted from July 6 to December 9, 1984.
It began after the release of the Jacksons' album "Victory" and Michael Jackson's album "Thriller."
The 55-performance concert series was attended by more than two million people and grossed in excess of $75 million (which was a record at the time).
This was also Michael's last tour as the lead singer of the Jacksons.
Ad blocker interference detected!
Wikia is a free-to-use site that makes money from advertising. We have a modified experience for viewers using ad blockers

Wikia is not accessible if you've made further modifications. Remove the custom ad blocker rule(s) and the page will load as expected.