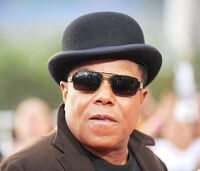 Toriano Adaryll "Tito" Jackson was born on October 15, 1953 in Gary, Indiana to Joe and Katherine Jackson.
He and his older brother, Jackie Jackson, are the only brothers to remain in The Jacksons for their entire history, from 1964 to date. He has never pursued a solo career.
In June 1972, Tito married Delores "Dee Dee" Martes and they had three children: Tariano Adaryll Jackson II in 1973, Taryll Adren Jackson in 1975, and Tito Joe Jackson in 1978.
Tito and Dee Dee divorced in 1988.
Ad blocker interference detected!
Wikia is a free-to-use site that makes money from advertising. We have a modified experience for viewers using ad blockers

Wikia is not accessible if you've made further modifications. Remove the custom ad blocker rule(s) and the page will load as expected.