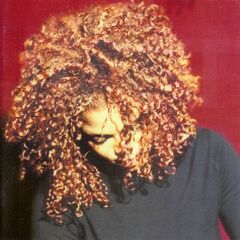 The Velvet Rope is the 6th studio album by Janet Jackson. The album was released on October 7, 1997 on Virgin Records.
Like the janet. album, "The Velvet Rope" takes the concept of sexuality a step further, encompassing sadomasochism & same-sex relationships as well addressing social issues such as homophobia and domestic violence.
The Velvet Rope debuted at number one on the Billboard 200, becoming Janet's fourth consecutive album to top the chart. Although it was considered to be a commerical disappointment in comparison to her 1993 album, the RIAA certified the album triple platinum with worldwide sales exceeding 10 million copies.
Janet received a Grammy Award nomination for "Best Female R&B Vocal Performance" for "I Get Lonely" and won the Grammy Award for "Best Short Form Music Video" for "Got 'til It's Gone". To further promote the album, Janet embarked on The Velvet Rope World Tour, receiving praise for her theatricality and vocal performance.
Album Background & Production
Edit
Janet's first compilation album "Design of a Decade: 1986/1996" was released in 1995. Following the release, she had fulfilled her duties and contract with Virgin Records.
Upon fulfilling her contract with Virgin Records, Janet was subject to an industry bidding war between various parties, including Sony Music, Time Warner, and The Walt Disney Company, who attempted to sign her jointly with PolyGram.
She renewed her contract with Virgin for $80 million, signing the largest recording contract in history for the second time.
The contract established her as the then-highest paid recording artist in history, surpassing the recording industry's then-unparalleled $60 million contracts earned by Michael Jackson and Madonna.
During her Janet World Tour, Janet experienced an emotional breakdown, stemming from self-hatred, childhood humiliation, self-harm, and distorted body image.
She stated, "I was very, very sad. Very down. I couldn't get up sometimes. There were times when I felt very hopeless and helpless, and I felt like walls were kind of closing in on me.. like you can't escape".
She questioned her career path, feeling pressured by the demands of the entertainment industry, saying, "People look at you differently, as if you're not human."
Abbie Kearse of MTV responded, "You're creating a person who might not really be you, but you've created this fantasy woman, so when it's time to get back to business, it's like 'I've got to go back to that world.'"
Janet expressed concern for how she could portray an object of fantasy, feeling as if she could no longer fulfill her own desires.
In self-analysis, Janet uncovered vital details regarding her past, saying, "Certain things may happen, and you just dismiss them instead of stopping and saying, "Why am I feeling this way? Why am I acting out in this way?" She had suppressed various traumas throughout her adolescence and early adulthood, using evasion tactics to prevent thoughts from surfacing.
Janet also recalled feeling unaccepted and ostracized for her skin color. She was persistently haunted by a memory of a school teacher intensely scolding her, causing her classmates to erupt in laughter.
She said, "Oh, God, it sounds so stupid. But being a kid you're just so frightened... I never talked about it, so it stayed with me all those years. I felt not deserving, not good enough... that's still the way I feel about myself sometimes."
As a child, Janet managed discomfort by speaking to her animals, later turning to overeating as an anesthetic, causing fluctuations in weight. She said, "I began to realize that whenever something really painful was going on, I would eat, and that's how I would run away from it. But I would just be creating another problem in another area instead of just dealing with that pain."
Janet developed body dysmorphia as a response to ridicule, stating, "I'd look in the mirror and hate myself. I'd sit and cry. It was so hard for me to look at myself and find something that I liked. Not just physically, but something that was good in me."
She also inflicted self-harm, banging her head against the wall when feeling unattractive. She traced her fragility to her abusive marriage to recording artist James DeBarge when she was 16 years old.
Janet recalled, "It all has to do with very low self esteem. Especially going into a relationship like that very young... someone telling you things like, 'no one is ever going to want you again, you should be happy here with me.'"
Attempting to alter his behavior and drug addiction, she explained, "I learned the hard way that you can't change a person."
Recalling her divorce, Janet revealed, "There came a point when I finally said, 'You know what? I just don't care what happens.' I had to do what I wanted to but had been too afraid to. And at that point I didn't care if I got my brains beat out. I just went ahead and did it. And I got my ass kicked for it. But I'm happy that I did it, or I don't think I would be here today."
Janet's self-hatred accelerated into raging cycles of bulimia and anorexia, repressing the issue until questioned. She said, "people say to me: `Okay, you've got to start eating more. You're too thin.' But when you look in the mirror, you see something totally different."
She continued, "I had swung so far in one direction, I never thought I could swing so far in the other. You're losing weight and getting smaller, and I'd still say to myself I could afford to lose a little more." However, Janet refused professional guidance, reluctant to examination.
Janet briefly saw a psychologist before an encounter with a spiritual guru, who aided her emotional recovery. Janet recounted, "we went to this very spiritual place in the desert... That's where I met him, this cowboy. He's in his fifties, and he's full of wisdom. He's an older man who has experienced a great deal, and he used to be in the music industry, on a smaller scale. He even understood that side of my life."
She also began using coffee enemas to remove "sad cells", leading to media scrutiny.
The trauma lead to a brief duration of sexual questioning, saying, "Am I curious? I think every girl has wondered." Janet culminated the experiences into the album's subject matter, recording over two years.
Album Recording\Composition
Edit
The album was produced by Janet with Jimmy Jam and Terry Lewis, as well as René Elizondo, Jr.. Its initial stages began following her janet. World Tour, recording intermittently over two years.
The process stalled due to various issues facing Janet including depression, body dysmorphia, anorexia and self-hatred.
As a result, Janet spontaneously canceled sessions, appearing constantly troubled, as Jimmy Jam commented, "That was a tough album to make for her. There were times when she would not show up at the studio for five or six days in a row."
Janet returned to the studio in January of 1997, embarking on a six-and-a-half month recording process. Its production was adjusted towards her lyrics and vocal suggestions, using an altered technique from prior sessions.
Attempting to push pop music in an alternate direction, the record was described as "a triumph of the spirit, a declaration of joy and healing that comes from examining the past while energizing the present, [...] exploring the mysteries of sexuality even as it addresses the problems of prejudice."
"The Velvet Rope" consists of sixteen songs and seven interludes; experimenting with various genres and darker themes. The album fused pop with various genres including R&B, electronic, trip hop, jazz, and folk music.
Janet stated:
"We've all driven by premieres or nightclubs, and seen the rope separating those who can enter and those who can't. Well, there's also a velvet rope we have inside us, keeping others from knowing our feelings. In The Velvet Rope, I'm trying to expose and explore those feelings. I'm inviting you inside my velvet rope. I have a need to feel special, and so do you. We share a burning need to belong. During my life, I've been on both sides of the rope. At times, especially during my childhood, I felt left out and alone. At times I felt misunderstood. Times when I ran into the backyard to confide in our dogs. Through them, I felt like I was talking to God. But no human heard those feelings expressed. They stay buried in my past. But the truth has to come out, and, for me, the truth the takes the form of a song."
Janet described the release as her most personal work, developed throughout her entire lifetime. She explained, "I never looked deeply at the pain from my past, never tried to understand that pain and work it through. It was a journey I had avoided. But one I now had to face."
Robert Hilburn added, "Jackson found a universal symbol to use in exploring issues of insecurity and self-worth. At some point, everyone is on the wrong side of the velvet rope, excluded because of race, social status, age or some other division."
She regarded commercial success as a secondary consideration, commenting, "I needed to express who I was and what I'd learned. I found out who I really was... If that can inspire people who hear this album to do the same, I'd rather have that than the biggest selling album in the world."
The album gained media attention for its explicit themes and exploration of homosexuality, suggested as a "queer-studies thesis."
Singapore law officials banned the album due to its lyrics supporting homosexuality. The song "Free Xone" speaks of gay, lesbian and bisexual pairings, as Janet protests discrimination.
The song "Together Again" recalls a departed friend lost to AIDS.
Her cover of "Tonight's the Night" suggests losing her virginity to another woman, also alluding to bisexuality. Media attention lead Rod Stewart to announce, "that's an original song by Janet Jackson" when performed in concerts.
In response to criticism, Janet said, "I have a lot of gay friends, men and women, and that's why I did it. I knew people would say I was gay, and I didn't care." She also stated, "I caught a lot of hell for that... religious groups have been upset with me for certain songs on the album, but it's not going to stop me from writing what I feel inside."
There were media reports of Janet involved in intimate relationships with dancers Tina Landon and Shawnette Heard surfaced following its release, although it was denied.
The album's "most startling" song was considered "What About," in which Janet violently confronts domestic abuse.
Janet stated, "I think it's important to let others know that certain things that you may have experienced in your life, and that they're not alone, and that you understand what they're going through, and that they can make it through."
Joel Lyans included it among "The New Soundtrack of Social Consciousness," writing, "Here, Janet does what she does best: demonstrates a coy and shy demeanor before ripping into a confident and empowered voice for those who are afraid to speak up and speak out about a situation that plagues millions of women."
Several media reports related its theme with President Bill Clinton's infidelity to Hillary Clinton with Monica Lewinsky.
Janet clarified it to be about her own experience, saying, "President Clinton? People have said that to me. They say 'this is his song'," comparing the situation with her song "This Time" inaccurately related to O.J. Simpson and Nicole Brown Simpson due to its subject matter.
Janet's progression into advanced erotic content was criticized, though she defended her material.
J.D. Considine praised her focus on intercourse "as if it were simply a fact of life," noting her concern with "the emotional component of sex, rather than the act itself."
In the song "Twisted Elegance," Janet speaks over piano and white noise. Its composition addressed the "emotional and sexual politics of relationships," restraints of depression, self-esteem, domestic violence, homosexuality, AIDS, and sadomasochism.
It transitions into the title track, progressing from rapid electronica into a mid-tempo techno structure.
It incorporates The Exorcist theme "Tubular Bells" as Janet explains "a velvet rope we have inside us, keeping others from knowing our feelings," closing with a violin solo by Vanessa-Mae.
The song "You" incorporates "deep-down funk" and trip hop as Janet distorts her voice in a low range during a challenge of self-scrutiny.
"Got 'til It's Gone" is an alternative pop and trip hop song featuring folk singer Joni Mitchell and rapper Q-Tip. Janet speaks of vulnerability and regret in a "depressive sobriety."
The interlude "Speakerphone" consists of Janet beginning to masturbate before a phone conversation with dancer Shawnette Heard.
"My Need" is a mid-tempo hip-hop song tackling self-obsession and unbridled lust.
The interlude "Fasten Your Seatbelts" portrays Janet and her dancers mimicking Bette Davis in "What Ever Happened to Baby Jane?" and "All About Eve."
"Go Deep" combines dance-pop and G-funk, performed in a "girlish breathiness."
The song "Free Xone" incorporates "slamming funk" with drum and bass, derived from "scratching, sampling, honey rapping, break beats and electronic accents." Janet described it "about homophobia and the pain it causes."
"Together Again" is an uptempo house and dance-pop song; considered a "modern post-disco meditation on the beauty of dance and eternal grace of romantic bonding."
Interlude "Online" features Janet typing as a dial-up internet connection is heard.
"Empty" is an electronic ballad incorporating trip hop, propelled by a "jittery, mellowed-out jungly beat." Its lyrics speak of the void felt through social network relationships, empathizing with those searching for acceptance via the internet.
The song "What About" confronts Janet's experiences with domestic violence. Over flamenco guitars, she recalls a former companion proposing before violently transitioning into hard rock.
The song "Every Time" is a piano ballad documenting Jackson's fear of love, examining an apprehensive side of romance.
"Tonight's the Night" alludes to sexual anticipation, suggesting a lesbian encounter and potential threesome during its finale.
Janet stated, "The record company tried to talk me out of it because it's directed toward a girl. I love the song the way it is, and it's reality for a lot of people."
The song "I Get Lonely" evokes lush sensuality as Janet speaks of abandonment over a sparse backing.
The song "Rope Burn" evokes bondage and sadomasochism as Janet requests to be tied down and pleasured with candle wax. It was declared "the first R&B trip-hop ballad, retro-fitted with a lazy, jazzy beat and a spare, slap bass-heavy backing track."
Janet regarded it as a "soft instrument of extended pleasure," saying, "The expression of sexual fantasies can be beautiful if there's trust, love and understanding."
"Anything" is a ballad invoking "feverish dimensions" of satisfaction.
In piano ballad "Special," Janet speaks to her inner child, spreading the message that "pain is not permanent," but rather, transformed.
She said, "Getting back to that child, and giving the child what the child may have missed—the reassurance of a nourishing and accepting a love, a love that says you're special—is hard work. It can be scary but, like the song says, we have to deal with the past to live completely—and freely—in the present."
"Can't Be Stopped" speaks of youth victimization, bigotry, and racial unity, "directed at young people who are discouraged or discriminated against... I want them to know that their inner-strength is stronger than the forces against them."
Album Title & Packaging
Edit
"The Velvet Rope" was titled as a metaphor for the emotional barricade preventing others from revealing their innermost thoughts; in comparison to the velvet rope used at film premieres and award shows, prohibiting access from spectators.
It also served as a metaphor for the barriers separating different classes of society. It was based on various events throughout her adolescence and early adulthood, resurfacing after attempted escapism.
The album's artwork was photographed by Ellen von Unwerth with additional photos by Mario Testino.
The cover depicts Janet lowering her head amidst a crimson backdrop, symbolizing remorse. "Janet" is faintly embossed in a pixelated block formation. She stated, "The shot we used on the cover shows me just looking down, and that's what the album was about, looking inward."
MTV News regarded the artwork as iconic and an influence on various artists. Its internal artwork depicts Janet's piercings and tattoos, also displaying her hands tied in bondage and latex attire, exhibiting fetishism.
A particular photo of Janet wearing a latex ensemble with her nipple piercing peering through an opening gained notoriety for its explicit nature. The photo also shows her pricking her body with an ice pick.
Upon its release, Janet unveiled an edgier image, flaunting hennaed red hair and tattoos on her neck, wrist, foot, back, and lower thigh; also acquiring nipple, septum, and labia piercings. The transition was considered to risk alienation, though she was commended as "a master at surprising and shocking her public."
Janet used a variation of the Akan Sankofa symbol throughout its artwork and imagery; representing the motif "You cannot move into the future until you learn from your past."
She tattooed the symbol onto her wrist, saying, "[it] appeared on my album The Velvet Rope and it's very important to me. [...] It's about going into your past and dealing with it so that you can move forward."
Janet's tattoo artist later stated, "I have a lot of people who fly in from all over the world to get something that has to do with Janet's sacred tattoos... She's an inspiration to a lot of people, and when they see something on Janet that helps her be strong, they want that strength as well."
Tracklisting
Edit
Twisted Elegance (Interlude) [0:41]
Velvet Rope (feat. Vanessa-Mae) [4:55]
You [4:42]
Got 'Til It's Gone (feat. Joni Mitchell & Q-Tip) [4:01]
Speaker Phone (Interlude) [0:54]
My Need [3:44]
Fasten Your Seatbelts (Interlude) [0:19]
Go Deep [4:42]
Free Xone [4:57]
Memory (Interlude) [0:04]
Together Again [5:01]
Online (Interlude) [0:19]
Empty [4:32]
Full (Interlude) [0:12]
What About [4:24]
Every Time [4:17]
Tonight's The Night [5:07]
I Get Lonely [5:17]
Rope Burn [4:15]
Anything [4:54]
Sad (Interlude) [0:10]
Special (includes the hidden track "Can't Be Stopped" which starts at 3:42) [7:55]
Japanese Bonus TracksEdit
Special [3:21]
God's Stepchild (includes the hidden track "Can't Be Stopped" which starts at 3:42) [7:55]
Australian Tour Edition TracklistingEdit
Got 'Til It's Gone (Armand Van Helden Bonus Beats) [5:05]
Together Again (Tony Humphries 12-inch Edit Remix) [9:57]
I Get Lonely (Janet vs. Jason: The Club Remix) [8:10]
Every Time (Jam & Lewis Disco Remix) [4:10]
"Velvet Rope" samples "Mosquito (Aka Hobo Scratch)" by West Street Mob and "Tubular Bells" by Mike Oldfield.
"You" samples "The Cisco Kid" by War.
"Got 'til It's Gone" samples "Big Yellow Taxi" by Joni Mitchell.
"My Need" samples "Love Hangover" by Diana Ross and "You're All I Need to Get By" by Marvin Gaye and Tammi Terrell.
"Free Xone" samples "Think (About It)" by Lyn Collins, "Tighten Up" by Archie Bell & the Drells, and "Joyous" by Pleasure.
"Together Again" samples "Bridge Zone" by Yuzo Koshiro.
Personnel
Edit
Album Chart Performance
Edit
Chart (1997/1998)
Peak
position
Australian Albums Chart
4
Austrian Albums Chart
9
Belgian Albums Chart (Flanders)
11
Belgian Albums Chart (Wallonia)
14
Canadian Albums Chart
2
Danish Albums Chart
3
Dutch Albums Chart
3
European Albums Chart
4
Finnish Albums Chart
19
French Albums Chart
5
German Albums Chart
5
Hungarian Albums Chart
40
Italian Albums Chart
11
Japanese Albums Chart
10
New Zealand Albums Chart
8
Norwegian Albums Chart
4
Swedish Albums Chart
4
Swiss Albums Chart
5
UK Albums Chart
2
U.S. Billboard 200
1
U.S. Billboard Top R&B/Hip-Hop Albums
2
U.S. Billboard Catalog Albums
30