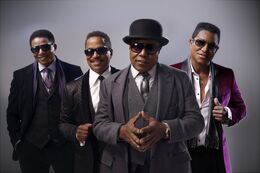 The Jacksons were originally started by Joe Jackson, featuring three of his sons: Jackie, Tito and Mazi Jermaine Jackson as The Jackson Brothers in 1964. The following year, Marlon and Michael were added to the lineup. In 1966, their name was changed to The Jackson 5, before they signed to Steeltown Records in 1967. After a couple of singles, they moved to Dynamo Records in 1968, were they released another single before leaving and settling with Motown Records. Their debut album, "Diana Ross Presents The Jackson 5" was released in 1969, which made them a moderately successful hit.
They would go on to release three more albums, before their success declined. Aside from their declining popularity, The Jackson 5, with the exception of Jermaine, were growing upset that they were not allowed to record their own material. Because of this, they left Motown in 1975, and unfortunately with that decision Jermaine left the band. After several court appearances, Motown Records ended up owning their name, and so The Jackson 5 changed their name to The Jacksons upon signing to CBS Records in 1976. Younger brother Randy joined them. They then released their tenth album, "The Jacksons" and hosted a TV show of the same name, which introduced their sisters: Rebbie, La Toya and Janet. Shortly after the shows cancellation, The Jacksons moved from CBS to Epic Records, and helped their sisters form a short-lived girl group.
In 1984, Jermaine returned to the group making them a sextet when they released their fourteenth album, "Victory". Michael and Marlon Jackson left the band soon after its release. The quartet of Jackie, Tito, Jermaine and Randy then went on hiatus until their fifteenth album, "2300 Jackson Street" was released in 1989. It did not live up to expectations, and the group left Epic Records, before resuming hiatus.
Jackie, Tito, Jermaine, Marlon and Randy reunited briefly to celebrate Michael's thirtieth year as a solo artist in 2001. After Michael's death in 2009, Jackie, Tito, Jermaine and Marlon announced they would start working on a new album.
Discography
Edit
1964-1974
Edit
1975-2010
Edit
1967-1977
Edit
1978-1988
Edit