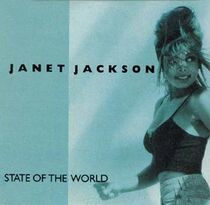 State of the World is a song from Janet Jackson's fourth album "Janet Jackson's Rhythm Nation 1814." It was written and produced by Jimmy Jam & Terry Lewis (with additional writing from Janet).
The song was released as the last single from the album on February 6, 1991. There was no music video was made to accompany the song.
Song Background
Edit
While recording the album, Janet and the producers watched television, especially news channels and created the song inspired by that.
According to Jimmy Jam, "We would watch BET, MTV ... then switched over to CNN, and there'd always be something messed-up happening. It was never good news, always bad news."
Chart Performance
Edit
In the US, "State of the World" was released as a radio-only single which made it ineligible to chart on the Billboard Hot 100 and the Hot R&B/Hip-Hop Songs. However, it peaked at #5 on the US Billboard Hot 100 Airplay and #9 on the Hot Dance Club Songs charts.
In Australia, the song received a commercial release and peaked at #94 on the ARIA Singles Chart in July of 1991.
Critical Reception
Edit
"State of the World" received mixed reviews from music critics. Jon Pareles of The New York Times considered that "despite its platitudinous message, [the song] has stark edges and angles".
Sputnikmusic's Zachary Powell commented that "'State of the World' keeps the upbeat motion that Rhythm Nation begins, but with more of a socially conscious twist. It shares with the preceding track a groovy beat and danceability, but takes it to another direction lyrically and shows the caring side of Janet Jackson".
Dennis Hunt of Los Angeles Times commented positively saying that the move to social commentary was a rocky decision. However, he felt that "State of the World" was not interesting enough musically to carry the messages.
In the book "Michael Jackson A Life In Music: A Life in Music" by writer Geoff Brown focusing on Jackson's brother Michael, he noted that like her brother, Janet can focus on problems as shown on the song, but offers no solutions to them.
The New Rolling Stone Album Guide commented that "heartfelt pleas for racial unity and cloudy musings on the 'State of the World' don't obscure the pulsating beat of other songs" from the album.
Jonathan Van Meter from Spin was critical of the song, saying that "State of the World", "Rhythm Nation" and "The Knowledge" formed "a Spike Lee-esque trilogy made even less convincing by a tiresome house music back-beat and that unfortunate, outdated beat on every fourth count".
AllMusic's editor Alex Henderson called the song "disturbing".