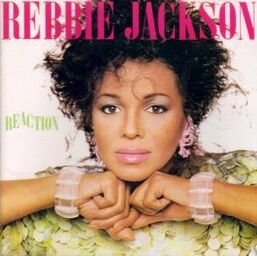 Reaction is the second album released by Rebbie Jackson. The album was released on March 9, 1986 on Columbia Records.
Tracklisting
Edit
Reaction (5:39)-[written by David Conley, David Townsend, & B. Jackson]
Ain't No Way to Love (5:39)-[written by Robert Brookins, T. Haynes, & P. Bailey]
Ticket to Love (4:48)-[written by E. Nuri]
You Don't Know What You're Missing (3:51)-[written by H. Rice, A.D. Rich, and B. Fasman]
You Send the Rain Away (feat. Robin Zander) (4:59)-[written by P. Grass, G. Sklerov, & L. Macaluso]
If You Don't Call (You Don't Care) (5:11)-[written by E. Nuri & P. Henderson]
Always Wanting Something (4:27)-[written by Tito Jackson & Vassal Benford]
Tonight I'm Yours (feat. Isaac Hayes) (4:16)-[written by V. Benford, Rebbie Jackson, & L. Brantley]
Lessons (In the Fine Art of Love) (4:37)-[written by Reggie Lucas & L.L. Smith]
Album Chart Performance
Edit
Chart (1986)
Peak
position
U.S. R&B Albums Chart
54
Ad blocker interference detected!
Wikia is a free-to-use site that makes money from advertising. We have a modified experience for viewers using ad blockers

Wikia is not accessible if you've made further modifications. Remove the custom ad blocker rule(s) and the page will load as expected.