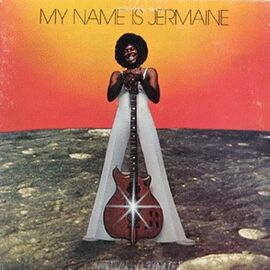 My Name Is Jermaine is the third album by Jermaine Jackson. The album was released on August 11, 1976 on Motown Records.
Album Background
Edit
In 1975, the Jackson 5 released their final album for Motown Records, "Moving Violation." Joseph Jackson devised an exit strategy from Motown because he was tired of his sons not being able to write their own songs. Jermaine stayed with the label, Randy replaced him, and the group renamed themselves The Jacksons.
Tracklisting
Edit
Let's Be Young Tonight (5:05)-[written by Don Daniels & Michael L. Smith]
Faithful (feat. Thelma Houston) (5:14)-[written by Michael L. Smith & Don Daniels]
Look Past My Life (3:21)-[written by Terri McFaddin & Greg Wright]
Bass Odyssey (3:27)-[written by Greg Wright]
Who's That Lady (4:07)-[written by Kenneth Lupper & Hubert Heard]
Lovely You're the One (4:04)-[written by Jeffrey Bowen, Truman Thomas, & James Henry Ford]
Stay With Me (2:51)-[written by Michael B. Sutton & Brenda J. Sutton]
I Just Want to Take This Time (4:31)-[written by Eric Robinson & Victor Orsborn]
My Touch of Madness (4:56)-[written by Michael L. Smith]
Album Chart Performance
Edit
Year
Album
Chart positions
US Billboard 200
US
R&B Albums
1976
My Name Is Jermaine
164
29
Ad blocker interference detected!
Wikia is a free-to-use site that makes money from advertising. We have a modified experience for viewers using ad blockers

Wikia is not accessible if you've made further modifications. Remove the custom ad blocker rule(s) and the page will load as expected.