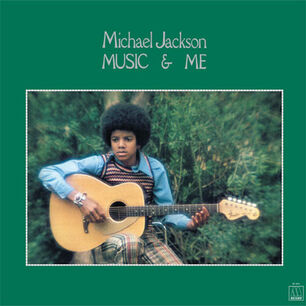 Music & Me was the third album by Michael Jackson. The album was released on April 13, 1973 on Motown Records.
The album peaked at #92 on the Billboard 200 and sold 2million copies worldwide. The album was recorded from March 1972 to March 1973.
Album Background
Edit
"Music & Me" was released during a difficult time for Michael, who was 14 years old at the time as he was experiencing vocal changes & facing a changing music landscape. Having been influenced by fellow Motown Records labelmates, Marvin Gaye & Stevie Wonder, Michael wanted his own compositions on the album, but Motown refused to allow it.
Despite the album cover featuring a photo of Michael strumming an acoustic guitar, he doesn't actually play an instrument on the album. Michael would later express his frustrations about this to his father, Joseph Jackson, who would later work to terminate Michael and his brothers' contract with Motown Records and negotiate lucrative contracts for them with Epic Records. Since Michael was on a world tour with the Jackson 5 at the time, there was limited promotion for the album. After the release of the album, Michael took two years to work on his follow-up album that focused on his maturing voice.
Tracklisting
Edit
With a Child's Heart (3:32)-[written by Sylvia Moy, Henry Cosby, & Vicki Basemore]
Up Again (2:50)-[written by Freddie Perren & Christine Yarian]
All the Things You Are (2:59)-[written by Oscar Hammerstein II & Jerome Kern]
Happy (Love Theme from Lady Sings the Blues) (3:25)-[written by Michel Legrand & Smokey Robinson]
Too Young (3:38)-[written by Sidney Lippman & Sylvia Dee]
Doggin' Around (2:52)-[written by Lena Agree]
Johnny Raven (3:33)-[written by Billy Page]
Euphoria (2:50)-[written by Leon Ware & Jacqueline Hilliard]
Morning Glow (3:37)-[written by Stephen Schwartz]
Music & Me (2:38)-[written by Jerry Marcellino, Mel Larson, Don Fenceton, & Mike Cannon]
Ad blocker interference detected!
Wikia is a free-to-use site that makes money from advertising. We have a modified experience for viewers using ad blockers

Wikia is not accessible if you've made further modifications. Remove the custom ad blocker rule(s) and the page will load as expected.