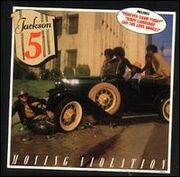 Moving Violation is the 9th and last album by The Jackson 5 that was released on Motown Records on May 15, 1975.
The album peaked at #36 on the Billboard 200 and #6 on Billboard's R&B Albums chart. It went on to sell 1.6 million copies worldwide. The album was recorded between October of 1974 and March of 1975.
Album Production\Background
Edit
By the end of the group's six-year run on Motown Records, all five of the Jackson brothers had matured dramatically vocally & age-wise. By that time, Michael was 16 years old. With the brothers becoming men, it became difficult for the group to deal with Motown's policies against writing & producing their own music.
After the album's release, the Jackson 5 (at the behest of their father, Joe) left Motown Records after securing a new record deal with CBS Records. Motown Records sued the group for breach of contract & refused to allow them to leave.
After some litigation, Motown allowed them to leave for CBS Records, but withheld the ownership of the "Jackson 5" name & trademark. Joe continued the legal battle until Michael suggested that the group simply changed the name of the act to "The Jacksons" and end the litigation.
Besides their group name, the Jackson 5 also left behind Jermaine, who was married to Berry Gordy (the head of Motown Records)'s daughter, Hazel. Jermaine ultimately chose Motown Records & the Gordys over his brothers which incensed Joe, who stated that "my blood runs through Jermaine's veins, not Berry Gordy's."
Jermaine went on to have a semi-successful solo career at Motown Records for 8 years while Jackie, Tito, Marlon, & Michael moved on, hired their youngest brother, Randy, and began recording for CBS Records.
Motown would issue two compliation albums: "Joyful Jukebox Music" in 1976 and "Boogie" in 1979 which was made up of archived recordings the group made during their tenure at the label.
Tracklisting
Edit
Forever Came Today [6:23] (written by Holland-Dozier-Holland)
Moving Violation [3:37] (written by Liz Shaw & Harold Beatty)
(You Were Made) Especially for Me [3:28] (written by Michael L. Smith & Brian Holland)
Honey Love [4:40] (written by Michael L. Smith, Edward Holland & Brian Holland)
Body Language (Do the Love Dance) [4:07] (written by Hal Davis & Don Fletcher)
All I Do is Think Of You [3:17] (written by Michael L. Smith & Brian Holland)
Breezy [3:38] (written by Mel Larson & Jerry Marcellino)
Call of the Wild [2:33] (written by Mel Larson & Jerry Marcellino)
Time Explosion [4:13] (written by Mel Larson & Jerry Marcellino)