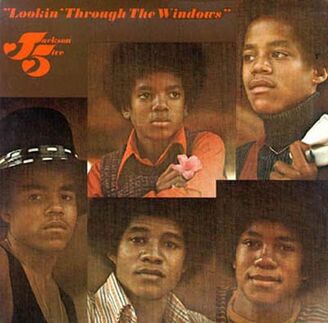 Lookin' Through the Windows was the 5th album by The Jackson 5. The album was released on May 23, 1972 on Motown Records.
The album peaked at #7 on the Billboard 200 and #3 on Billboard's R&B Albums chart. It went on to sell 3.5 million copies worldwide. It was recorded between February of 1970 & October of 1971 to April of 1972.
Album Production\Background
Edit
During that time, the members of the Jackson 5 (including then 13-year-old lead singer, Michael) were growing up and were no longer feeling comfortable singing the same bubblegum pop music that made them teen idols.
The album marked the beginning of Michael's vocal change from soprano to tenor. Even though he could still reach his famed high notes, Michael's voice was filling out and it allowed him to reach lower registers also. The sessions for the album also marked the beginning of bad vibes between the Jacksons and Motown Record because they found it difficult to deal with both the maturing Michael (who had an independent mind of how he wanted to sound) and his father Joe Jackson, who managed the Jackson 5 and became dissatisfied with how Motown was handling the group.
Tracklisting
Edit
Ain't Nothing Like the Real Thing (2:28)-[written by Nickolas Ashford & Valerie Simpson]
Lookin' Through the Windows (3:38)-[written by Clifton Davis]
Don't Let Your Baby Catch You (3:12)-[written by The Corporation]
To Know (3:17)-[written by The Corporation]
Doctor My Eyes (3:12)-[written by Jackson Browne]
Little Bitty Pretty One (2:47)-[written by Robert Byrd]
E-Ne-Me-Ne-Mi-Ne-Moe (The Choice is Yours to Pull) (2:49)-[written by Johnny Bristol, Wade Bowen, & D. Jones]
If I Have to Move a Mountain (3:16)-[written by The Corporation
Don't Want to See Tomorrow (2:44)-[written by Stephen Bowden, Jim Chambers, Hal Davis, & Theodore McFaddin]
Children of the Light (2:26)-[written by Michael Randall]
I Can Only Give You Love (2:33)-[written by Richard & Willie Hutch]
Ad blocker interference detected!
Wikia is a free-to-use site that makes money from advertising. We have a modified experience for viewers using ad blockers

Wikia is not accessible if you've made further modifications. Remove the custom ad blocker rule(s) and the page will load as expected.