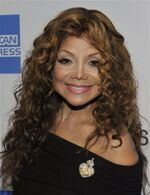 La Toya Yvonne Jackson was born on May 29, 1956 in Gary, Indiana to Joe and Katherine Jackson.
In 1975, La Toya Jackson began attending college, aspiring to become a lawyer in business law. In 1976 she starred in her brothers' TV show, The Jacksons along with her siblings, Rebbie and Janet Jackson. In 1978, her father forced her to quit college when he formed a girl group out of her and her sisters. The group split soon after, and in 1979 she signed a solo deal with Polydor Records.
Her debut album, "La Toya Jackson" was released in 1980, and was given fair reviews. Her sophomore album, "My Special Love" followed the next year, however it did not do as well and she was dropped in 1982. She signed to minor record label Private-I Records in 1983, and they released her breakthrough third album, "Heart Don't Lie" in 1984. Her success continued with her fourth album, "Imagination" but was cut short when Private-I went bankrupt later that year in 1986. The following year she signed to Teldec Records, a German indie label, and released her fifth album, "La Toya" which was a commercial failure. She was recording a new album, "Bad Girl" when Teldec folded, leaving the album unreleased. Soon after, she married Jack Gordon on September 5, 1989 in Nevada.
In 1990, she signed to BCM Records, who later folded as well, and then moved to Pump Records who released her sixth album, "No Relations" in 1991, which gained no publicity and she left the label in 1992. In 1996, after years of physical, mental and emotional abuse and an estrangement from her family, La Toya called her brother Randy to help her escape while Gordon was out. Once she was safe at The Jackson Family home, she filed for divorce and a restraining order, both which were finalized and valid soon after. She then went into seclusion.
In 2001, La Toya returned announcing she had founded a new label, Ja-Tail Records, and would be releasing a comeback album, "Startin' Over". The album has had numerous delays, and is now set for release in late 2010.
Discography
Edit