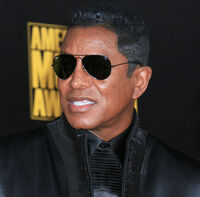 Jermaine La Juane Jackson was born on December 11, 1954 in Gary, Indiana to Joe and Katherine Jackson.
After success with The Jacksons, Jermaine signed a solo deal with Motown Records, and released his first two moderately successful albums before marrying Motown's owner Berry Gordy's daughter, Hazel Gordy on December 15, 1973. After leaving The Jacksons in 1975, he released his third solo album, "My Name Is Jermaine" in 1976. "Feel the Fire" followed in 1977, and soon after Hazel gave birth to Jermaine La Juane "Jay" Jackson Jr.( born on January 27, 1977), and Autumn Joy Jackson was born on July 10, 1978.
In 1980, he released his seventh album, "Jermaine" and "I Like Your Style" in 1981. He released one more album before leaving Motown and switching to Arista Records. He rejoined The Jacksons in 1984. His eleventh album, "Precious Memories" was released in 1986, and that year it was revealed that he had been in an affair, when his mistress Margaret Maldonado gave birth to Jeremy Maldonado Jackson( born on December 26, 1986). The following year, Hazel had their third child Jaimy Jackson ( born on March 17, 1987), before they divorced in 1988. In 1989, he released his twelfth album, "Don't Take It Personal" before Margaret Maldonado had their second child, Jourdynn Michael Jackson( born on January 5, 1989).
In 1990, he left Arista and signed to La Face Records. He released one album before leaving in 1992, and has been inactive since. Alejandra Oaziana (younger brother Randy's ex-mistress) gave birth to two of Jermaine's kids, Jaafar Jackson ( born on July 25, 1996)and Jermajesty Jackson ( born on October 3, 2000).
He remarried to Halima Rashid in 2004.
Discography
Edit
1971-1981
Edit
1982-1992
Edit
1971-1981
Edit
1982-1992
Edit