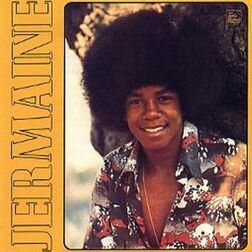 Jermaine is the self-titled debut album of Jermaine Jackson. The album was released on January 7, 1972 on Motown Records.
The album peaked at #27 on the Billboard 200 chart and topped Billboard's R&B Albums chart.
Tracklisting
Edit
That's How Love Goes (3:25)
I'm in a Different World (3:05)
Homeward Bound (2:57)
Take Me In Your Arms (Rock Me For a Little While) (3:05)
I Only Have Eyes for You (2:40)
I Let Love Pass Me By (3:04)
Live It Up (2:58)
If You Were My Woman (3:47)
Ain't That Peculiar (3:10)
Daddy's Home (3:07)
Ad blocker interference detected!
Wikia is a free-to-use site that makes money from advertising. We have a modified experience for viewers using ad blockers

Wikia is not accessible if you've made further modifications. Remove the custom ad blocker rule(s) and the page will load as expected.