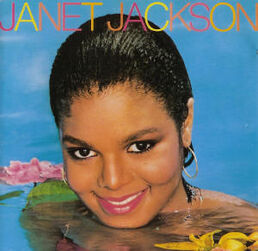 Janet Jackson is the self-titled debut album by Janet Jackson. The album was released on September 21, 1982 on A&M Records.
Janet's career as a singer was established by her father & manager, Joseph Jackson, who arranged her record deal with A&M Records. Prior to her record deal with A&M Records, Janet was known for her television roles on "Good Times" as Penny and "Diff'rent Strokes" as Charlene.
Janet didn't want any of her family members to participate in the making of the album because she wanted it to be her own project judged by its own merits. The album cover of Janet was taken in the swimming pool of the Jackson family residence.
Tracklisting
Edit
Say You Do (6:48)-[written by René Moore & Angela Winbush; produced by Bobby Watson, René Moore, & Angela Winbush]
You'll Never Find (A Love Like Mine) (4:09)-[written by René Moore & Angela Winbush; produced by Bobby Watson, René Moore, & Angela Winbush]
Young Love (4:56)-[written by René Moore & Angela Winbush; produced by Bobby Watson, René Moore, & Angela Winbush]
Love and My Best Friend (4:47)-[written by René Moore & Angela Winbush; produced by Bobby Watson, René Moore, & Angela Winbush]
Don't Mess Up This Good Thing (3:53)-[written by Foster Sylvers & Jerry Weaver; produced by Wardell Potts Jr., Barry Sarna, & Dana Meyers]
Forever Yours (4:57)-[written by Phillip Ingram & Attala Zane Giles; produced by Jerry Weaver & Charmaine Sylvers]
The Magic Is Working (4:09)-[written by Dorie Pride & Gene Dozier; produced by Jerry Weaver & Foster Sylvers]
Come Give Your Love To Me (5:03)-[written by Glen Barbee & Charmaine Sylvers; produced by Foster Sylvers & Jerry Weaver]
Album Chart Performance
Edit
Chart (1982)
Peak
position
New Zealand Albums Chart
44
U.S. Billboard 200
63
U.S. Billboard Top R&B/Hip-Hop Albums
6