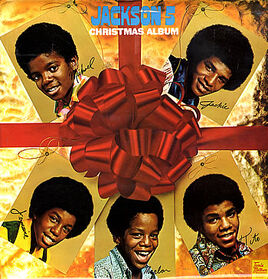 Jackson 5 Christmas Album was the only holiday album released by The Jackson 5. It was released on October 15, 1970 on Motown Records.
The album peaked at #1 on Billboard magazine's special Christmas albums chart, making it the best-selling holiday album of 1970, selling over 3.5 million copies worldwide. The album also showcased the brothers' harmonies and Michael is prominently featured on the album tracks.
Tracklisting
Edit
Have Yourself a Merry Little Christmas (5:19)-[written by Ralph Blaine & Hugh Martin]
Santa Claus Is Coming to Town (2:24)-[written by John Frederick Coots & Haven Gillepsie]
The Christmas Song (2:45)-[written by Mel Torme & Bob Wells]
Up on the Housetop (3:16)-[Traditional]
Frosty the Snowman (2:39)-[written by Steve Nelson & Jack Rollins]
The Little Drummer Boy (3:15)-[written by Katherine Davis, Henry Onorati, & Harry Simeone]
Rudolph the Red-Nosed Reindeer (2:32)-[written by Johnny Marks]
Christmas Won't Be the Same This Year (2:31)-[written by Pam Sawyer & LaVerne Ware]
Give Love on Christmas Day (2:44)-[written by Berry Gordy, Jr., Fonce Mizell, Freddie Perren, & Deke Richards]
Someday at Christmas (2:44)-[written by Ron Miller & Bryan Wells]
I Saw Mommy Kissing Santa Claus (3:01)-[written by Tommie Connors]
Ad blocker interference detected!
Wikia is a free-to-use site that makes money from advertising. We have a modified experience for viewers using ad blockers

Wikia is not accessible if you've made further modifications. Remove the custom ad blocker rule(s) and the page will load as expected.