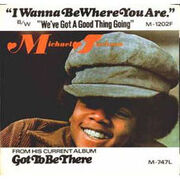 "I Wanna Be Where You Are" is the third single from Michael's debut solo album "Got to Be There." The single was released on May 2, 1972.
It was written by Arthur Ross & Leon Ware and produced by Hal Davis. The song was recorded in November of 1971.
                 Chart (1972)
Peak
position
Turkey Singles Chart
87
US Billboard Hot 100
16
US Billboard Best Selling Soul Singles
2
Ad blocker interference detected!
Wikia is a free-to-use site that makes money from advertising. We have a modified experience for viewers using ad blockers

Wikia is not accessible if you've made further modifications. Remove the custom ad blocker rule(s) and the page will load as expected.