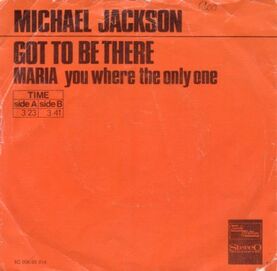 "Got to Be There" is the first single from Michael's debut solo album "Got to Be There." The single was released on October 7, 1971 & recorded at Motown's Hitsville West Studios in Hollywood, California.
It was written by Elliot Willensky. The single became successful, topping Cashbox Magazine's pop and R&B singles chart. It was musically arranged by Dave Blumberg and the vocal arrangements were produced by Willie Hutch.
             Chart (1971)
Peak
position
U.S. Billboard Hot 100
4
U.S. Billboard Best Selling Soul Singles
4
U.S. Billboard Adult Contemporary
14
UK Singles Chart
5
Australian ARIA Singles Chart
83
Ad blocker interference detected!
Wikia is a free-to-use site that makes money from advertising. We have a modified experience for viewers using ad blockers

Wikia is not accessible if you've made further modifications. Remove the custom ad blocker rule(s) and the page will load as expected.