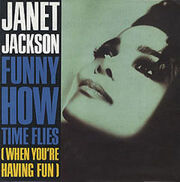 Funny How Time Flies (When You're Having Fun) is the 7th and final single from Janet Jackson's 1986 album, "Control." The song was written by Janet, Jimmy Jam & Terry Lewis.
The single was officially released in the United Kingdom and Australia and went for airplay in the United States. Even though the song didn't make the charts in the United States, it became a famed quiet storm staple on adult R&B radio stations. There was no music video made for the single.
Album Chart Performance
Edit
Chart (1987)
Peak
position
Irish Singles Chart
24
UK Singles Chart
59
Ad blocker interference detected!
Wikia is a free-to-use site that makes money from advertising. We have a modified experience for viewers using ad blockers

Wikia is not accessible if you've made further modifications. Remove the custom ad blocker rule(s) and the page will load as expected.