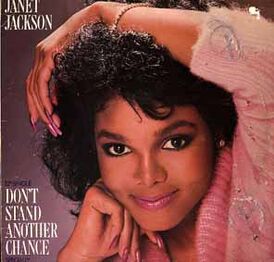 "Don't Stand Another Chance" is the lead single from Janet's sophomore album "Dream Street." The song was written by Janet, her brother Marlon Jackson (who also produced the song & also provided backing vocals) and John Barnes.
Brothers Michael, Tito and Jackie also provided backing vocals to the song as well.
Chart (1984)
Peak
position
U.S. Billboard Bubbling Under Hot 100 Singles
1
U.S. Billboard Black Singles
9
U.S. Billboard Dance Music/Club Play Singles
23
South African Sales Chart
40
Ad blocker interference detected!
Wikia is a free-to-use site that makes money from advertising. We have a modified experience for viewers using ad blockers

Wikia is not accessible if you've made further modifications. Remove the custom ad blocker rule(s) and the page will load as expected.