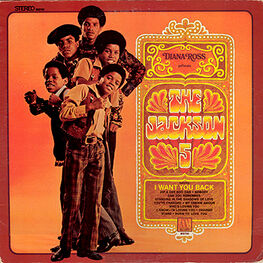 Diana Ross Presents the Jackson 5 is the debut album from The Jackson 5. The album was released on December 18, 1969 on Motown Records. The album peaked at #5 on the Billboard 200 and topped the R&B Albums chart. It was recorded from May to August of 1969.
The album title suggested that Motown singer Diana Ross discovered the group as do the Diana Ross-penned liner notes on the back cover. Diana's supposed discovery of the Jackson 5was in fact part of Motown's marketing and promotion plan for the Jackson 5. Motown artists Bobby Taylor & Gladys Knight actually discovered the Jacksons, but Diana introduced the group to the public in concert & on television.
Album Background & Production
Edit
Tracklisting
Edit
Zip-a-Dee-Doo-Dah (3:18)-[written by Ray Gilbert & Allie Wrubel]
Nobody (2:54)-[written by the Corporation]
I Want You Back (3:04)-[written by the Corporation]
Can You Remember (3:10)-[written by Thom Bell & William Hart]
Standing in the Shadows of Love (4:06)-[written by Holland-Dozier-Holland]
You've Changed (3:16)-[written by Gordon Keith]
My Cherie Amour (3:44)-[written by Stevie Wonder, Sylvia Moy, & Henry Cosby]
Who's Lovin' You (4:06)-[written by Smokey Robinson]
Chained (2:54)-[written by Frank Wilson]
(I Know) I'm Losing You (2:16)-[written by Norman Whitfield & Eddie Holland]
Stand! (2:30)-[written by Sylvester Stewart]
Born to Love You (2:38)-[written by Ivy Jo Hunter & William "Mickey" Stevenson]
Ad blocker interference detected!
Wikia is a free-to-use site that makes money from advertising. We have a modified experience for viewers using ad blockers

Wikia is not accessible if you've made further modifications. Remove the custom ad blocker rule(s) and the page will load as expected.