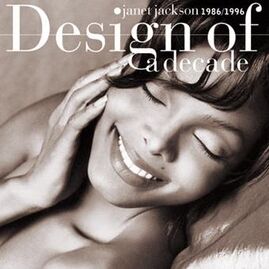 Design of a Decade: 1986-1996 is the first greatest hits album by Janet Jackson. The album was released on October 10, 1995 by A&M Records. The album features 14 of Janet's top 40 hits from her previous albums: "Control," "Janet Jackson's Rhythm Nation 1814," "janet.," and two new tracks: "Runaway" and "Twenty Foreplay."
The album was well received by many critics, who cited the amount of hit singles on the record, but many noted its misleading title, since a majority of the songs came from the period of 1986–1990. It was certified Double Platinum by the RIAA, selling 10 million copies worldwide.
Tracklisting
Edit
Album Chart Performance
Edit
Chart (1995/1996)
Peak
position
Australian ARIA Albums Chart
2
Austrian Albums Chart
15
Belgian Ultratop 50 Albums (Flanders)
7
Belgian Ultratop 50 Albums (Wallonia)
6
Canadian Albums Chart
5
Dutch Albums Chart
8
French Albums Chart
2
Finnish Albums Chart
8
German Albums Chart
10
Japanese Oricon Albums Chart
4
New Zealand RIANZ Albums Chart
1
Norwegian Albums Chart
18
Swedish Albums Chart
14
UK Albums Chart
2
U.S. Billboard 200
3
U.S. Billboard Top R&B/Hip-Hop Albums
4
U.S. Billboard Catalog Albums
3
Ad blocker interference detected!
Wikia is a free-to-use site that makes money from advertising. We have a modified experience for viewers using ad blockers

Wikia is not accessible if you've made further modifications. Remove the custom ad blocker rule(s) and the page will load as expected.