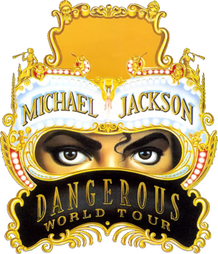 The Dangerous World Tour was Michael Jackson's second concert tour. The tour took place from June 27, 1992 to November 11, 1993.
The 69 concert dates of the tour attracted more than three million fans & the staging of the concert sets took nearly three days to set up. There were 20 trucks of equipment that were shuttled on cargo planes to countries around the world.
Michael ended up cutting the remainder of his tour short due to the stress from the child sexual abuse allegations levelled against him.
Tour Overview
Edit
Following the huge success of Michael's first solo world tour, Bad World Tour (where he earned over $125 million), the star claimed that he would not tour again and would concentrate on making films and records instead.
On February 3, 1992 in a Pepsi press conference, it was announced that he would be touring again. The announcement coincided with a new deal between Michael and Pepsi with a reported $20 million deal to sponsor the tour.
In an interview, Michael stated, "The only reason I am going on tour is to raise funds for the newly formed Heal the World Foundation, an international children's charity, that I am spearheading to assist children and the ecology. My goal is to gross $100 million by Christmas 1993. I urge every corporation and individual who cares about this planet and the future of the children to help raise money for the charity. The Heal the World Foundation will contribute funds to paediatric AIDS in honour of my friend, Ryan White. I am looking forward to this tour because it will allow me to devote time to visiting children all around the world, as well as spread the message of global love, in the hope that others will be moved to do their share to help heal the world."
"Michael's show, I loved," said Janet Jackson. "The only thing – and I told him – that I wish he had done was to play more songs from the new album. And I wish he had played 'Don't Stop 'Til You Get Enough'. He goes, 'I know, Jan, and the other brothers told me that, but you know what? I was really pressed for time.' And that's the thing, when you become so busy. So it was pretty much the same show as he's been doing for some time."
Preparations & Set Designs
Edit
The stage used for the tour required more time to set up than before. Equipment, which in total weighed over 100 tons, required two Boeing 747 jet aircraft and multiple lorries to transport to each venue.
For the tour's design, Michael was influenced by the uniform worn by the military. For "Jam", the first performance on the set list, He wore two variations of a faux-military uniform.
During the 1992 leg, the uniform was a grey-green jacket with a one bolted strap which sparkled with multicolour.
For the Tokyo and 1993 leg, Michael wore a black uniform with three gold bolted straps, one going from his collar to his waist in one direction and the other two in another; he also used similar costume at the first Dangerous tour concert in Munich, the Super Bowl XXVII halftime show in 1993, and later at the Royal Brunei Concert in 1996.
The tour also incorporated several stage illusions. The Dangerous era was considered one of Michael's best.
Each concert on the tour ended by a stuntman, Kinnie Gibson, who secretly switched with Michael as he kneels down a trap hole in the stage, dressed in a full astronaut costume (therefore appearing as Michael Jackson), flying out of the arena using a rocket belt.
Each concert also began with an illusion-like stunt dubbed "the Toaster" in which following the ringing of bells and the roar of a panther, Michael catapults on to the stage through a trap door in the front, sending off pyrotechnics that electrified the crowd.
"That opening was kick-ass," admired Janet Jackson. "I'm sitting in the sound tower and all the kids are everywhere. And when he jumped out of whatever the hell that thing was, I was yelling so loud, the kids in front of me were looking back and I didn't even know it. My friend Tina is saying, Jan, they're looking at you. Because I was going, Fuck yeah, Mike! That was the shit to me. That was so bad-ass. Why didn't I think of that? When he thought of that shit, he hit it."
A similar version of "the Toaster" stunt was used in the beginning of Michael's Super Bowl XXVII Halftime Show performance in 1993.
During the 1992 leg, the transition from "Thriller" to "Billie Jean" was another stage trick.
When Michael walks into two pillars, he secretly switches with a werewolf-masked backup dancer while he changes for "Billie Jean."
The backup dancer posing as Michael is placed into a coffin which disappears when dancers posing as skeletons and zombies drape a cloth over the coffin and pull it out. He appears fully dressed for Billie Jean in the upper stage level as it lowers down.
The coffin portion of this stage illusion was removed in some of the 1992 leg shows and the entire 1993 leg of the tour, and replaced with the Michael Jackson impersonator and the backup dancers performing an encore of the "Monster Breakdown" (the dance sequence in "Thriller").
The original set list for the 1992 leg featured "The Way You Make Me Feel" and "Bad", but these were taken out after the eighth concert in Oslo, Norway. However, these two songs were returned for the first six performances in Tokyo, Japan.
During the Europe leg in 1992, MTV was allowed to film backstage and broadcast six fifteen-minute episodes of the tour. The show was called "The Dangerous Diaries" and was presented by Sonya Saul.
MTV released footage of "Billie Jean" and "Black Or White" at the first show in Munich. "Billie Jean" was released with 2 different versions, one by MTV as a special, and the other on the "Dangerous Diaries" documentary.
Both versions have placed a snippet of Michael's original a cappella recording for "Billie Jean" over the live vocals when he throws his fedora.
Michael sold the film rights to his October 1, 1992 concert in Bucharest, Romania to HBO for $21 million.
The deal was the highest ever paid for a live concert. The concert was broadcast live on radio and shown on television across 61 countries and received the highest TV ratings in the history of the HBO network, in which Michael was honoured with a CableACE Award.
In 2004, the concert was released on DVD as part of Jackson's The Ultimate Collection box set. It was released again in 2005 as the separate DVD "Live in Bucharest: The Dangerous Tour." The footage used on the released version is actually a mixture of footage from Bucharest – The BBC Broadcast, HBO live telecast (pay per view) and the HBO TV version.
The Dangerous tour was met with some backlash by music critics and fans because of Jackson's increased habit of lip syncing his live performances.
The Toulouse, France concert performed on September 16, 1992 featured a special instrumental performance of the first half of the song "In the Closet" as an interlude between the songs "Heal the World" and "Man in the Mirror".
Princess Stéphanie of Monaco (who was the "Mystery Girl" in the actual song) was in attendance at this concert. This concert marked the first and only time that this song was performed during this tour.
On December 31, 1992 during the New Year's Eve concert in Tokyo, Japan, Slash made a special guest appearance for the performance of "Black or White". Slash also made a special appearance for "Black or White" at the concert in Oviedo, Spain in September 1992.
On August 29, 1993, Michael performed in front of 47,000 on his 35th birthday in Singapore.
During his visit to Moscow in September, he came up with the song "Stranger in Moscow" which would be released on his 1995 album HIStory: Past, Present and Future, Book I. It was during a time when Jackson felt very alone, far away from his family and friends, yet every night throughout his tours fans would stay by his hotel and support him.
Michael performed a free concert at the Jerudong Park Amphitheatre in Bandar Seri Begawan, Brunei on July 16, 1996.
The concert was in celebration of the fiftieth birthday of Hassanal Bolkiah, the Sultan of Brunei and was attended by the Brunei royal family. This concert resembled the Dangerous tour with the addition of HIStory songs, "You Are Not Alone" and "Earth Song".
Super Bowl XXVII Halftime Show
Edit
Unlike many previous years, Michael was the only performer in the entire Super Bowl XXVII halftime show.
The show started with him dancing on certain jumbotrons, followed by impersonators that posed on top of the screen, which gave the illusion of Jackson moving from one side of the stadium to the other. Then Michael himself catapulted on stage and simply stood frozen in front of the audience.
Jackson's set consist of a medley: "Jam" (with the beginning of "Why You Wanna Trip on Me"), "Billie Jean" and "Black or White".
The finale featured an audience card stunt, a video montage showing Michael participating in various humanitarian efforts around the world and a choir of 3,500 local Los Angeles area children singing "We Are the World", later joining him as he sang his single "Heal the World".
It was the first Super Bowl where the audience figures actually increased during the half-time show.
The selection of Michael for the halftime show was in response to sagging interest in recent performances, notably in the two years immediately prior.
The NFL and FOX network officials decided it was necessary to sign top acts for the halftime in future years to boost future viewership and interest. The NFL donated $100,000 to Michael's Heal the World Foundation.
Opening Acts
Edit
Kris Kross
Rozalla
TLC
D'Influence (England)
Snap! (Bucharest)
Culture Beat (1993 European dates)
1992 Rehearsals
1992
"Brace Yourself" (Introduction)
"Jam"
"I Just Can't Stop Loving You" (duet with Siedah Garrett)
The Jackson 5 Medley: "I Want You Back" / "The Love You Save" / "I'll Be There"
"Thriller"
"Black or White Panther" (Video Interlude)
"Beat It"
"Someone Put Your Hand Out" (Instrumental Interlude)
"Bad"
"We Are the World" (Video Interlude)
"Man in the Mirror"/"Rocket Man" (Final)
1993
"Brace Yourself" (Introduction)
"Jam"
"I Just Can't Stop Loving You" (duet with Siedah Garrett)
The Jackson 5 Medley: "I Want You Back" / "The Love You Save" / "I'll Be There"
"Thriller"
"Black or White Panther" (Video Interlude)
"Someone Put Your Hand Out" (Instrumental Interlude)
"We Are the World" (Video Interlude)
"Man in the Mirror"/"Rocket Man" (Final)
1996 Royal Concert
"Brace Yourself" (Introduction)
"Jam"
"I Just Can't Stop Loving You" (with Marva Hicks)
The Jackson 5 Medley: "I Want You Back" / "The Love You Save" / "I'll Be There"
"Thriller"
"Black Panther" (Video Interlude)
"Beat It" (with Jennifer Batten)
Tour Dates
Edit
Date
City
Country
Venue
First leg
June 25, 1992
Munich
Germany
Olympiastadion (full rehearsal)
June 27, 1992
Munich
Germany
Olympiastadion
June 30, 1992
Rotterdam
Netherlands
Feijenoord Stadium
July 1, 1992
July 4, 1992
Rome
Italy
Stadio Flaminio
July 6, 1992
Monza
Stadio Brianteo
July 7, 1992
July 11, 1992
Cologne
Germany
Müngersdorfer Stadion
July 15, 1992
Oslo
Norway
Valle Hovin
July 17, 1992
Stockholm
Sweden
Stockholm Olympic Stadium
July 18, 1992
July 20, 1992
Copenhagen
Denmark
Gentofte Stadion
July 22, 1992
Werchter
Belgium
Werchter Festival Ground
July 25, 1992
Dublin
Ireland
Lansdowne Road
July 30, 1992
London
United Kingdom
Wembley Stadium
July 31, 1992
August 5, 1992
Cardiff
Cardiff Arms Park
August 8, 1992
Bremen
Germany
Weserstadion
August 10, 1992
Hamburg
Volksparkstadion
August 13, 1992
Hamelin
Weserberglandstadion
August 16, 1992
Leeds
United Kingdom
Roundhay Park
August 18, 1992
Glasgow
Glasgow Green
August 20, 1992
London
Wembley Stadium
August 22, 1992
August 23, 1992
August 26, 1992
Vienna
Austria
Praterstadion
August 28, 1992
Frankfurt
Germany
Waldstadion
August 30, 1992
Ludwigshafen
Südweststadion
September 2, 1992
Bayreuth
Wild Stadion
September 4, 1992
Berlin
Jahn Stadion
September 6, 1992
Gelsenkirchen
Parkstadion
September 8, 1992
Lausanne
Switzerland
Stade olympique de la Pontaise
September 11, 1992
Basel
St. Jakob Stadium
September 13, 1992
Paris
France
Hippodrome de Vincennes
September 16, 1992
Toulouse
Stade de Toulouse
September 18, 1992
Barcelona
Spain
Estadi Olímpic Lluís Companys
September 20, 1992
Oviedo
Estadio Carlos Tartiere (1932)
September 23, 1992
Madrid
Estádio Vicente Calderón
September 26, 1992
Lisbon
Portugal
Estádio José Alvalade
October 1, 1992
Bucharest
Romania
Lia Manoliu National Stadium
Second leg
December 12, 1992
Tokyo
Japan
Tokyo Dome
December 14, 1992
December 17, 1992
December 19, 1992
December 22, 1992
December 24, 1992
December 30, 1992
December 31, 1992
Super Bowl XXVII halftime show
January 31, 1993
Pasadena
California
Rose Bowl Stadium
Third leg
August 24, 1993
Bangkok
Thailand
Suphachalasai Stadium
August 27, 1993
August 29, 1993
Singapore
Singapore
Singapore National Stadium
September 1, 1993
September 4, 1993
Taipei
Taiwan
Taipei Municipal Stadium
September 6, 1993
September 10, 1993
Fukuoka
Japan
Fukuoka Dome
September 11, 1993
September 15, 1993
Moscow
Russia
Luzhniki Stadium
September 19, 1993
Tel Aviv
Israel
Yarkon Park
September 21, 1993
September 23, 1993
Istanbul
Turkey
İnönü Stadium
September 26, 1993
Tenerife
Canary Islands (Spain)
Port of Santa Cruz de Tenerife
October 8, 1993
Buenos Aires
Argentina
Estadio River Plate
October 10, 1993
October 12, 1993
October 15, 1993
São Paulo
Brazil
Estádio do Morumbi
October 17, 1993
October 23, 1993
Santiago
Chile
Estadio Nacional
October 29, 1993
Mexico City
Mexico
Estadio Azteca
October 31, 1993
November 7, 1993
November 9, 1993
November 11, 1993
Royal concert
July 16, 1996
Bandar Seri Begawan
Brunei
Jerudong Park
Concert Broadcast & Recordings
Edit
All concerts were professionally filmed by Nocturne Productions Inc., which filmed all of Michael's tours and private affairs.
During the 1992 European leg of the tour, MTV was given permission to film backstage reports, interview the cast and film live performance.
The mini-show was hosted by Sonya Saul and had six, 15-minute mini-episodes of concerts in Munich, Werchter, Dublin, Hamburg, Cardiff, London, Leeds, Berlin, Oviedo and Madrid.
Performances include Billie Jean, Black or White, Jam, Wanna Be Startin' Somethin' and Will You Be There.
The concert in Bucharest on October 1, 1992, was filmed and broadcast on television all across the world, giving HBO the highest rating garnered in cable TV history with an unedited version airing on the BBC.
The concert film titled "Live in Bucharest: The Dangerous Tour" was officially released on DVD on July 25, 2005.
Tour Personnel
Edit
Dancers
LaVelle Smith (choreographer)
Jamie King, Evaldo Garcia, Randy Allaire (1992 leg), Travis Payne (1993 leg), Damon Navandi, Bruno "Taco" Falcon, Michelle Berube and Yuko Sumida
Band members
Musical director: Greg Phillinganes
Assistant musical director: Kevin Dorsey
Keyboards/ Synthesizers: Greg Phillinganes, Brad Buxer & Isaiah Sanders
Drums: Ricky Lawson
Lead/Rhythm Guitar: Jennifer Batten & David Williams
Bass Guitar/Synth Bass: Don Boyette
Vocal director: Dorian Holley
Background Vocals: Kevin Dorsey, Dorian Holley, Siedah Garrett & Darryl Phinnessee