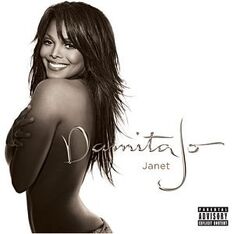 Damita Jo is the 8th album by Janet Jackson. The album was released on March 30, 2004 on Virgin Records. The album takes its title from Janet's middle name and became her second album to have a "Parental Advisory" sticker.
The album earned Janet two nominations at the 2005 Grammy Awards for "Best Contemporary R&B Album" and "Best Female R&B Vocal Performance" for "I Want You". Upon its release, the album received mostly mixed reviews from most music critics.
It debuted at #2 on the Billboard 200 with first-week sales of 381,000 copies and has since sold 1,002,000 copies in the United States and was certified platinum by the RIAA within two months of the album's release on May 27, 2004.
Album Background
Edit
After releasing "Come on Get Up" as the final single from her "All for You" album, Janet began working on the album. It was recorded from May of 2003 to February of 2004 at Brandon's Way Recording, DARP Studios, Flyte Time Studios, Larrabee Studios East, Murlyn Studios, Platinum Sound Studios, The Record Plant, Sony Music Studios and The Village.
"Damita Jo" saw Janet's music change, using new styles & types of music and exploring her sexuality explicitly & openly.
Album Reception
Edit
When "Damita Jo" was released, it was during the period of which Janet generated controversy for her Super Bowl XXXVIII performance the previous month. The album was considered a major sales disappointment despite debuting at #2 on the Billboard 200, selling 381,000 copies during its first week & was certified platinum in late May of 2004.
The album received mixed reviews with critics pointing out either the controversy over the Super Bowl incident or the highly sexual nature of some of the songs on the album which were composed before the incident occured.
The clean version of "Damita Jo" is heavily censored, removing all explicit language, sexual content (which included certain moaning) and even omitting two songs "Warmth" and "Moist" due to their sexual content. The censored songs included "All Nite (Don't Stop)" which had several lines completely removed, "Like You Don't Love Me" had most of the chorus removed" and "Sexhibition" was retitled "Exhibition."
Tracklisting
Edit
Looking For Love [1:29]-(written by Christophe Hetier, David Ritz, Fabrice Dumont, Janet Jackson and Stephan Haeri; produced by Janet Jackson, Jimmy Jam & Terry Lewis and Télépopmusik
Damita Jo [2:46]-(written by Bobby Ross Avila, Issiah J. Avila, Janet Jackson and Jimmy Jam & Terry Lewis; produced by Janet Jackson, Jimmy Jam & Terry Lewis, Bobby Ross Avila and Issiah J. Avila)
Sexhibition [2:29]-(written by Dallas Austin, Gregory "Ruckus" Andrews and Janet Jackson; produced by Dallas Austin)
Strawberry Bounce [3:11]-(written by Lorenzo Irving, Janet Jackson, Jeffrey Atkins, Jimmy Jam & Terry Lewis, Kanye West, Rob Mays, Shawn Carter and Tony "Prof T" Tolbert; produced by Janet Jackson, Jimmy Jam & Terry Lewis and Kanye West)
My Baby [4:17]-(written by Joni-Ayanna Portee, Janet Jackson, Kanye West and Sean Garrett; produced by Janet Jackson, Jimmy Jam & Terry Lewis and Kanye West)
The Islands [0:39]-(written & produced by Janet Jackson and Jimmy Jam & Terry Lewis)
Spending Time With You [4:14]-(written by Bobby Ross Avila, Issiah J. Avila, Janet Jackson and Jimmy Jam & Terry Lewis; produced by Janet Jackson and Jimmy Jam & Terry Lewis)
Magic Hour [0:23]-(written & produced by Janet Jackson and Jimmy Jam & Terry Lewis)
Island Life [3:53]-(written by Cathy Dennis, Janet Jackson and Scott Storch; produced by Janet Jackson, Jimmy Jam & Terry Lewis)
All Nite (Don't Stop) [3:27]-(written by Anders Bagge, Arnthor Birgisson, Herbie Hancock, Janet Jackson, Jimmy Jam & Terry Lewis, Melvin R. Ragin, Paul Jackson and Tony "Prof T" Tolbert; produced by BAG & Arnthor and Janet Jackson)
R&B Junkie [3:11]-(written by Janet Jackson, Jimmy Jam & Terry Lewis, Michael Jones, Nicholas Trevisick and Tony "Prof T" Tolbert; produced by Janet Jackson and Jimmy Jam & Terry Lewis)
I Want You [3:57]-(written by Harold Lilly, Kanye West, John Stephens, Burt Bacharach and Hal David; produced by Janet Jackson, Jimmy Jam & Terry Lewis and Kanye West)
Like You Don't Love Me [3:31]-(written by Bobby Ross Avila, Issiah J. Avila, Janet Jackson and Jimmy Jam & Terry Lewis; produced by Janet Jackson and Jimmy Jam & Terry Lewis)
Thinkin' 'Bout My Ex [4:36]-(written by Andy Cramer, Babyface and Tanya White; produced by Babyface)
Warmth [3:44]-(written by Dana Stinson, Janet Jackson, Jimmy Jam & Terry Lewis and Tony "Prof T" Tolbert; produced by Janet Jackson and Jimmy Jam & Terry Lewis)
Moist [4:54]-(written by Bobby Ross Avila, Issiah J. Avila, Janet Jackson, Jimmy Jam & Terry Lewis and Tony "Prof T" Tolbert; produced by Janet Jackson and Jimmy Jam & Terry Lewis)
It All Comes Down to Love [0:39]-(written & produced by Janet Jackson and Jimmy Jam & Terry Lewis)
Truly [3:59]-(written & produced by Janet Jackson and Jimmy Jam & Terry Lewis)
The One [1:02]-(written by David Ritz, Janet Jackson and Jimmy Jam & Terry Lewis)
Slolove [3:44]-(written by Anders Bagge, Arnthor Birgisson, Janet Jackson, Shelly Poole and Tommy Danvers; produced by BAG & Arnthor and Janet Jackson)
County [0:31]-(written and produced by Janet Jackson and Jimmy Jam & Terry Lewis)
Just a Little While [4:11]-(written by Dallas Austin & Janet Jackson; produced by Dallas Austin)
Japanese Bonus Tracks
Edit
I'm Here [4:16]
Put Your Hands On [3:56]
Personnel
Edit
Album Chart Performance
Edit
Chart (2004)
Peak
position
Australian Albums Chart
18
Austrian Albums Chart
49
Belgian Albums Chart (Flanders)
33
Belgian Albums Chart (Wallonia)
40
Canadian Albums Chart
7
Danish Albums Chart
34
Dutch Albums Chart
23
French Albums Chart
35
German Albums Chart
21
Irish Albums Chart
72
Italian Albums Chart
37
Japanese Albums Chart
10
New Zealand Albums Chart
50
Spanish Albums Chart
49
Swedish Albums Chart
43
Swiss Albums Chart
34
UK Albums Chart
32
US Billboard 200
2
US Top R&B/Hip-Hop Albums
2