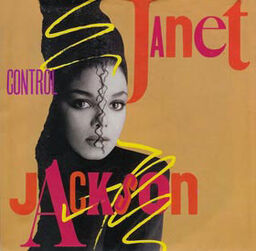 "Control" is the fourth single from Janet's third album "Control." The single was released on October 21, 1986.
The song was written by Janet, Jimmy Jam & Terry Lewis (who also produced the song). It was recorded in August of 1985 at Flyte Tyme Studios in Minneapolis, Minnesota.
Music Video
Edit
The video was directed by Mary Lambert. It starts off with Janet fighting with her parents because she wants to move out of the house, but her dad is deadset against it. Janet leaves the house and is greeted in the driveway by Jimmy Jam, Terry Lewis, Jellybean Johnson and Jerome Benton.
The guys take Janet to a concert hall to perform her first gig. Ja'net Dubois (who co-starred on the '70s tv show "Good Times" with Janet) portrays her mother in the video. Paula Abdul choreographed the video.
The live footage of the video was recorded at the Grand Olympic Auditorium in Los Angeles, California. Both Mary Lambert and producer Sharon Oreck recall it as a difficult and trying experience. In 2011, Sharon stated that it was her "worst nightmare" of the many videos she had produced.
The crowd (which had been told that they would see Janet Jackson perform) had expected a free concert. According to Sharon: "Instead we gave them 50 takes of Janet lip-synching 'Control.'"
At the time, Janet was in the midst of firing her father, Joe Jackson from his position as her manager. Sharon said that he was bitter and taking it out on everybody else. He told Sharon that he would not let Janet sit on the trapeze she is seen being lowered onto the stage in unless there was $1 million of liability insurance coverage on her.
Sharon told the record company which responded: "Don't tell him anything, but don't tell him no, because we don't say no to Joe Jackson." This evasiveness did not work, and Joe became even angrier and threatened her with violence. Finally Mary told A&M Records she and Sharon would quit the video unless they told Joe Jackson his daughter was insured.
Later, the situation got worse in the shoot. A&M Records told Mary that they wanted more white people visible in the audience. There were a few scattered throughout, and under the guise of simple repositioning she began having them sit further forward.
Eventually the crowd as a whole figured out what was really happening and became angry. Mary told the record company representative that she absolutely couldn't go on due to the potential for violence and he went out and explained things to the crowd which calmed down enough to complete the video.
Chart (1986/1987)
Peak
position
Australian Kent Music Report
82
Belgian Singles Chart (Flanders)
20
Canadian Singles Chart
18
Dutch Top 40
12
New Zealand Singles Chart
16
UK Singles Chart
42
U.S. Billboard Hot 100
5
U.S. Billboard Hot Black Singles
1
U.S. Billboard Hot Dance Music/ Club Play
1
End-of-year chartsEdit
| End-of-year chart (1987) | Position |
| --- | --- |
| U.S. Billboard Hot 100 | 37 |
Certifications
Edit
"Control" was certified Gold by the RIAA.