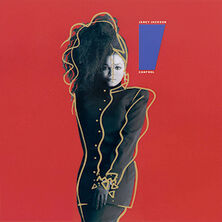 Control is the third album by Janet Jackson. The album was released on February 4, 1986 on A&M Records.
Janet worked with songwriters\producers Jimmy Jam & Terry Lewis on the album. The album enabled Janet to transition into the pop music market, becoming one of the defining albums of the 80s and contemporary music and is considered the breakthrough album of Janet's career.
The album topped the Billboard 200 and five singles released from the album: "What Have You Done for Me Lately," "Nasty," "Control," "When I Think of You," and "Let's Wait Awhile" made the top five of the Billboard Hot 100. Janet's music videos showcased her dancing ability and became a catalyst for MTV's evolving demographics.
"Control" received a Grammy nomination for "Album of the Year" and won "Producer of the Year, Non-Classical" for Jimmy Jam & Terry Lewis in 1987. It was certified fivefold platinum by the RIAA and has sold 14 million copies worldwide. It is listed by the National Association of Recording Merchandisers and the Rock and Roll Hall of Fame as one of "the 200 Definitive Albums of All Time." It has been praised by critics as both an artistic feat and a personal testament of self-actualization.
Album Background\Production
Edit
In 1982, Joseph Jackson arranged a record contract with 16-year-old Janet in 1982 and oversaw the entire production of her debut album and her second album, "Dream Street". Janet was initially reluctant to begin a recording career & stated:
"I was coming off of a TV show that I absolutely hated doing, Fame. I didn't want to do [the first record, Janet Jackson]. I wanted to go to college. But I did it for my father."
Janet elaborated that she was often in conflict with her producers. She rebelled against her family's wishes by marrying DeBarge's James DeBarge in 1984 which the Jacksons disapproved of, citing James' immaturity & substance abuse. In January of 1985, Janet left James and was granted annulment later that year.
Janet fired her father as her manager and employed then A&M senior vice president of artists and repertoire & general manager, John McClain. Janet commented on the decision, stating:
"I just wanted to get out of the house, get out from under my father, which was one of the most difficult things that I had to do, telling him that I didn't want to work with him again."
Joseph resented John McClain for what he saw as an underhanded attempt to steal his daughter's career out from under him, stating:
"I've worked hard for my family. The problem comes, though, when others come in behind you and try to steal them away. The wheels have already been set for Janet Jackson. Anyone who jumps on now will be getting a free ride."
John responded by stating: "I'm not trying to pimp Janet Jackson or steal her away from her father." He subsequently introduced her to songwriting/production duo, James "Jimmy Jam" Harris III and Terry Lewis (who were former Prince associates and ex-members of The Time). When Jimmy Jam & Lewis agreed to produce Janet's third album, they wanted to primarily appeal to the African-American community in addition to achieving crossover success on the pop music charts.
Prior to their association with Janet, the duo had originally planned to record an album with tracks they wrote for singer Sharon Bryant, but she found their lyrics and sound to be too "rambunctious." They presented the same set of recordings to Janet, who gave her input and took co-writing and co-production credits for the album's content.
Even though Joseph initially demanded that Janet's new album be recorded in Los Angeles in order to keep an eye for her, Jimmy Jam & Terry Lewis refused and required the entire album production to be done at their studio in Minneapolis, Minnesota. Joseph disapproved of the new material and image of "Control" claiming that it would never sell.
According to a cover story for Spin magazine entitled: "Damn It, Janet: The Battle for Control of Janet Jackson," Joseph was reported saying "[i]f Janet listens to me, she'll be as big as Michael." Janet and John McClain disregarded his objections. Commenting on the final product, Janet stated: "It's aggressive, cocky, very forward. It expresses exactly who I am and how I feel. I've taken control of my own life. This time I'm gonna do it my way."
Album Reception
Edit
Although A&M Records didn't consider a full concert tour to promote Janet's album, the label funded a 3-week promotional tour across the United States in thirteen cities following the album's release.
"Control" topped the Billboard 200 and Black Albums chart. It was first certified gold by the RIAA in April of 1986, denoting 500,000 units shipped within the United States. In June of 1986, the album was certified platinum, denoting 1,000,000 units shipped.
Three years after the album's release, it was certified fivefold platinum in October of 1989 by the RIAA. Since the album's debut, it has sold over 14 million copies worldwide and in addition to the studio release, a remix album, "Control: The Remixes" was released in select countries in November of 1987.
Tracklisting
Edit
Control (5:55)-[written by James Harris III, Terry Lewis, & Janet Jackson; produced by Jimmy Jam & Terry Lewis]
Nasty (4:03)-[written by James Harris III, Terry Lewis, & Janet Jackson; produced by Jimmy Jam & Terry Lewis]
What Have You Done for Me Lately (4:59)-[written by James Harris III, Terry Lewis, & Janet Jackson; produced by Jimmy Jam & Terry Lewis]
You Can Be Mine (5:16)-[written by James Harris III, Terry Lewis, & Janet Jackson; produced by Jimmy Jam & Terry Lewis]
The Pleasure Principle (4:58)-[written by Monte Moir; produced by Monte Moir, Janet Jackson, & Steve Wiese]
When I Think of You (3:56)-[written by James Harris III, Terry Lewis, & Janet Jackson; produced by Jimmy Jam & Terry Lewis]
He Doesn't Know I'm Alive (3:30)-[written by Spencer Bernard; produced by Jimmy Jam & Terry Lewis]
Let's Wait Awhile (4:37)-[written by James Harris III, Terry Lewis, Janet Jackson, & Melanie Andrews; produced by Jimmy Jam & Terry Lewis, and Janet Jackson]
Funny How Time Flies (When You're Having Fun) (4:29)-[written by James Harris III, Terry Lewis, & Janet Jackson; produced by Jimmy Jam & Terry Lewis]
Personnel
Edit
Janet Jackson – vocals, background vocals, keyboards, bells
Melanie Andrews – background vocals
Troy Anthony – saxophone
Jerome Benton – vocals
Spencer Bernard – synthesizer, guitar
Geoff Bouchieiz – guitar
Mark Cardenas – synthesizer
Roger Dumas – drums, programming
Jimmy Jam – synthesizer, percussion, piano, drums, vocals, background vocals
Jellybean Johnson – guitar, vocals
Lisa Keith – background vocals
Terry Lewis – percussion, vocals, background vocals
John McClain – producer
Monte Moir – synthesizer, guitar, drums
Nicholas Raths – acoustic and 12-string guitar
Gwendolyn Traylor – background vocals
Hami Wave – background vocals
Album Chart Performance
Edit
Chart (1986–89)
Peak
position
Australian Albums Chart
25
Canadian Albums Chart
11
Dutch Albums Chart
7
German Albums Chart
36
Japanese Albums Chart
82
New Zealand Albums Chart
5
Swedish Albums Chart
47
Swiss Albums Chart
28
UK Albums Chart
8
US Billboard 200
1
US Top R&B/Hip-Hop Albums 
1