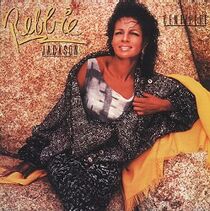 Centipede is the debut album of Rebbie Jackson. The album was released on October 10, 1984 on CBS Records. It became Rebbie's only gold-certified album throughout her 14-year music career. The album was produced by her brothers Michael Jackson, Tito Jackson, & Randy Jackson along with producer Wayne Henderson.
Album Background
Edit
Rebbie's album was only released once she had ensured that her family life was secure and she spent time with her children during their important younger years. The album received mixed reviews from critics & journalists. According to "Jet" magazine, "Centipede" marked Rebbie's emergence as a "legitmate recording artist" and "cleared the major hurdle of demonstrating that [she] was talented and markable."
Rebbie became the last of her siblings to embark on a recording career and the last in line to release hit music material. Rebbie later revealed that there was a lot of discussion at the time of the release of her debut album whether she should use the Jackson family name professionally or not because she didn't want to use her pre-marriage surname, but she later reasoned that it was silly to deny her heritage. She did explain that did compromise with the use of her family name on the album cover.
Tracklisting
Edit
Centipede (4:25)-[written & produced by Michael Jackson]
Come Alive It's Saturday Night (4:13)-[written by Marlon Jackson, Jackie Jackson, Randy Jackson, & Tito Jackson; produced by Randy Jackson, Tito Jackson, & Wayne Henderson]
Hey Boy (4:38)-[written by Tito Jackson, Delores Jackson, & Michael McKinney; produced by Wayne Henderson]
Open Up to My Love (4:10)-[written by Jon Springer, Don Daniels, & Mary Stewart; produced by Wayne Henderson]
Play Me (I'm a Jukebox) (3:27)-[written by Pam Tillis & Jan Buckingham; produced by Wayne Henderson]
I Feel for You (3:54)-[written by Prince; produced by Wayne Henderson]
A Fork in the Road (3:46)-[written by William Robinson Jr., Warren Moore, & Ronald White; produced by Wayne Henderson]
Ready for Love (3:00)-[written by Frank Hamilton III; produced by Wayne Henderson]
Album Chart Performance
Edit
Chart (1984)
Peak
position
U.S. Billboard 200
63
U.S. R&B Chart
13
Ad blocker interference detected!
Wikia is a free-to-use site that makes money from advertising. We have a modified experience for viewers using ad blockers

Wikia is not accessible if you've made further modifications. Remove the custom ad blocker rule(s) and the page will load as expected.