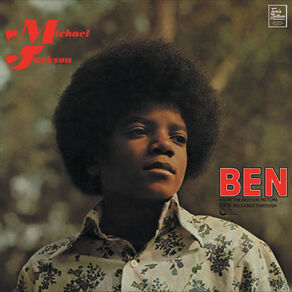 Ben is the 2nd album by Michael Jackson. The album was released on August 4, 1972 on Motown Records while Michael was still a member of the Jackson 5.
The album received mixed reviews from contemporary music critics and has sold a reported 5 million units. The song "Everybody's Somebody's Fool" was scheduled to be released as the second single, but it was canceled for unspecified reasons.
Tracklisting
Edit
Ben (2:44)-[written by Walter Scharf & Don Black]
Greatest Show on Earth (2:48)-[written by Mel Larson & Jerry Marcellino]
People Make the World Go 'Round (3:15)-[written by Thom Bell & Linda Creed]
We've Got a Good Thing Going (2:59)-[written by Alphonso Mizell, Berry Gordy Jr., Deke Richards, & Freddie Perren]
Everybody's Somebody's Fool (2:59)-[written by Gladys Hampton, Regina Adams, & Ace Adams]
My Girl (3:08)-[written by Smokey Robinson & Ronald White]
What Goes Around Comes Around (3:33)-[written by Allen Levinsky, Arthur Stokes, Dana Meyers, & Floyd Weatherspoon]
In Our Small Way (3:39)-[written by Beatrice Verdi & Christine Yarian]
Shoo-Bee-Doo-Bee-Doo-Da-Day (3:21)-[written by Sylvia Moy, Henry Cosby, & Stevie Wonder]
You Can Cry on My Shoulder (2:39)-[written by Berry Gordy]
Album Chart Performance
Edit
Charts (1972/1973/2009)
Peak
position
French Albums Chart
162
UK Albums Chart
17
U.S. Billboard 200
5
U.S. Top R&B/Hip-Hop Albums
4
Ad blocker interference detected!
Wikia is a free-to-use site that makes money from advertising. We have a modified experience for viewers using ad blockers

Wikia is not accessible if you've made further modifications. Remove the custom ad blocker rule(s) and the page will load as expected.