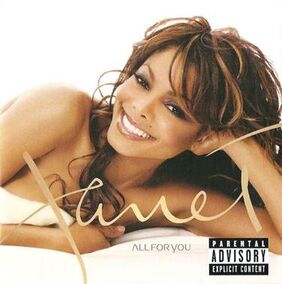 All for You is the 7th album by Janet Jackson. The album was released on April 24, 2001 on Virgin Records.
The album saw Janet heavily incorporating pop and dance-pop music & showcased a fluffier pop sound with lyrics talking mostly about Janet's then-recent divorce. Despite the strong language & excessive sexual content & themes on the album, the first pressings of the album didn't contain a "Parental Advisory" warning on it and a clean version of the album wasn't offered.
In mid 2001, the album was re-released with a "Parental Advisory" warning on it along with a bonus track which contained the remix of "Son of a Gun" and with the re-release, a clean version of the album was issued which retained the "Son of a Gun" remix, but omitted the track, "Would You Mind."
The re-released album became Janet's first album to be released with a "Parental Advisory" label on it. In addition of the re-issue of the album, a Deluxe Edition of the album was further released in November of 2001 as "All For You: DVD Edition" with a bonus DVD featuring music videos (some of which had been previously unavailable on home video), interviews and behind the scenes footage, spanning from the promotion of the album, "janet." to the promotion and making of "All For You."
The album topped the BIllboard 200 and R&B albums chart. It was certified by Gold by the RIAA on May 18, 2001, denoting 500,00 units shipped within the United States. On that same day, the album's certification was raised to platinum denoting 1,000,000 units shipped and then was certified double platinum denoting 2,000,000 units shipped. Billboard magazine ranked the album at #141 on their "Top 200 Albums of the Decade."
Tracklisting
Edit
Personnel
Edit
Album Chart Performance
Edit
Chart (2001/2002)
Peak
position
Australian ARIA Albums Chart
3
Austrian Albums Chart
8
Belgian Albums Chart (Flanders)
3
Belgian Albums Chart (Wallonia)
3
Canadian Albums Chart
1
Danish Albums Chart
4
Dutch Albums Chart
4
European Top 100 Albums
2
Finnish Albums Chart
14
French Albums Chart
2
German Albums Chart
3
Italian Albums Chart
10
Japanese Albums Chart
4
New Zealand Albums Chart
6
Norwegian Albums Chart
4
Polish Albums Chart
18
Swedish Albums Chart
4
Swiss Albums Chart
2
UK Albums Chart
2
U.S. Billboard 200
1
U.S. Billboard Top R&B/Hip-Hop Albums
1