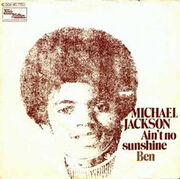 "Ain't No Sunshine" is the last single from Michael's debut solo album "Got to Be There." The song is a cover version of Bill Withers' 1971 single and was written by Bill himself.
The single was released on July 3, 1972 in the United Kingdom only.
The song peaked at #41 on the U.K. Singles chart. It re-charted again after Michael's death in 2009, last peaking at #92 on the U.K. Singles chart.
Ad blocker interference detected!
Wikia is a free-to-use site that makes money from advertising. We have a modified experience for viewers using ad blockers

Wikia is not accessible if you've made further modifications. Remove the custom ad blocker rule(s) and the page will load as expected.