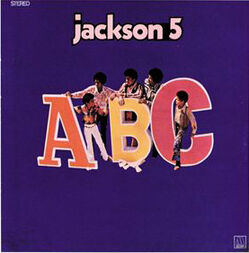 ABC is the second album by The Jackson 5. The album was released on May 8, 1970 on Motown Records.
The album was recorded from August of 1969 to March of 1970. It sold over 5.7 million copies worldwide and it was listed at #98 on VH1's "All-Time Album Top 100."
Tracklisting
Edit
The Love You Save (3:01)-[written by the Corporation]
One More Chance (2:59)-[written by the Corporation]
ABC (2:56)-[written by the Corporation]
2-4-6-8 (2:55)-[written by Gloria Jones & Pam Sawyer]
(Come 'Round Here) I'm the One You Need (2:46)-[written by Holland-Dozier-Holland]
Don't Know Why I Love You (3:47)-[written by Lula May Hardaway, Don Hunter, Paul Riser, & Stevie Wonder]
Never Had a Dream Come True (2:58)-[written by Stevie Wonder, Sylvia Moy, & Henry Cosby]
True Love Can Be Beautiful (3:24)-[written by Leonard Caston Jr., Jeanna Jackson, & Bobby Taylor]
La-La (Means I Love You) (2:52)-[written by Thom Bell & William Hart]
I'll Bet You (2:26)-[written by George Clinton, Sidney Barnes, & Patrick Lindsey]
I Found That Girl (2:57)-[written by the Corporation]
The Young Folks (2:50)-[written by George Gordy & Allen Story]
Album Chart Appearance
Edit
| Year | Chart | Position |
| --- | --- | --- |
| 1970 | US Billboard's Top R&B Albums | 1 (for 12 weeks) |
| 1970 | US Billboard 200 | 4 |
Ad blocker interference detected!
Wikia is a free-to-use site that makes money from advertising. We have a modified experience for viewers using ad blockers

Wikia is not accessible if you've made further modifications. Remove the custom ad blocker rule(s) and the page will load as expected.